History of Chicago's Sandburg Village Community
It required Chicagoans of fearless spirit to become pioneer tenants at Sandburg Village. So it was fitting that Anthony Yasillo, a lion keeper at Lincoln Park Zoo, was among the first 10 occupants to move in on April 19, 1963. The giant project, which ultimately totaled 2,600 units in nine high-rises and adjacent townhouses, was built amid a Near North Side area of blight, brothels and banditry, all pressing in on Chicago's exclusive Gold Coast. Other large urban-renewal projects preceded it, notably in Hyde Park near the University of Chicago and on the Near South Side, but Sandburg, so close to downtown and the Gold Coast, was a crucial test of the ability of the city to repair itself.
Security concerns were high at the development, whose 16 acres was bounded by North Avenue and LaSalle, Clark and Division Streets. A block away was Wells Street, lined with raucous bars. The new construction was a $40 million-plus gamble to save the Near North Side and, in turn, to stave off the blight threatening Chicago's business core to the south and the Lincoln Park neighborhood to the north. "The whole area would have gone down the drain," declared Arthur Rubloff, Sandburg Village's chief promoter, a flamboyant real estate baron known neither for understatement nor small plans.
He had a point. Sandburg Village was a model at a time when middle-class flight was devastating Chicago and other older cities. Sandburg Village attracted 8,000 residents, who formed a nucleus that slowly transformed the entire area. Later, town homes were erected, enticing many who were considering moving to suburbia to remain in the city. Encouraged by the presence of a prosperous anchor, venturesome urbanites began to fix up homes in nearby Old Town, South Lincoln Park and western blocks of the Gold Coast.
Sandburg Village in 1960s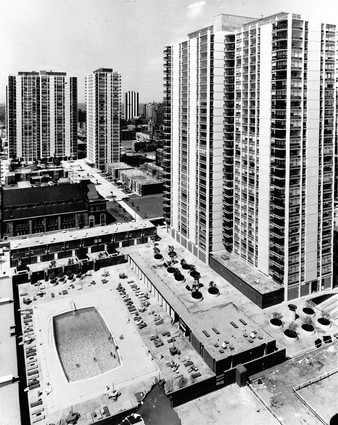 Covering sixteen acres on Chicago's Near North Side, Sandburg Village's nine high-rises and adjacent townhouses provided housing for 8,000 people. Those residents formed a nucleus that slowly transformed the entire area.
These buildings along North Clark Street were torn down to make way for Sandburg Village, which ultimately totaled 2,600 units in nine high-rises and adjacent town houses. With changing tastes, they might have been preserved in later years for their vintage charm.
By the late 1970s, prices in those areas had skyrocketed, real estate money had begun to move to working-class sections of the North and Northwest Sides, and the word "gentrification" had entered the city's vocabulary. While rents were higher, they remained low compared to neighboring North-side dwellings. New inhabitants were young, middle-class professionals. While many other urban renewal projects failed, Sandburg Village overcame the strains that accompanied a changing population. In 1979 the apartments were converted into condominiums.
In the 1990s, high-priced homes began to encircle Cabrini-Green. And, with changing tastes, housing of the sort razed to make way for Sandburg was being preserved for its vintage charm.
Other cities have attempted similar redevelopments around their central areas, but few have been as effective in sparking private investment as Sandburg. Moreover, Sandburg Village encouraged two other publicly supported developments that have provided an arc of middle-class residential buffers for the Loop on the west and south, Presidential Towers and Dearborn Park.
Carl Sandburg Village is a complex of high- and low-rise condominium buildings, town houses, landscaped pedestrian malls, and commercial sites. The Village is located in the center of Chicago's Near North, Gold Coast, and Old Town neighborhoods within an area bordered by North Avenue, LaSalle Street, Division Street, and the half-block east of Clark Street. Most Village addresses are on Sandburg Terrace, which refers to the raised plaza area that runs through the middle of the 1200, 1300, 1400, and 1500 blocks between Clark and LaSalle. Sandburg buildings that are east of Clark have addresses on Burton Place and Schiller Street.
Sandburg Village complex was named after Carl Sandburg (January 6, 1878 - July 22, 1967) an American writer and editor, best known for his poetry. Consequently, 9 high-rise condominium buildings were named after world famous writers and poets:
1460 N. Sandburg Terrace - Alcott House
1455 N. Sandburg Terrace - Bryant House
1360 N. Sandburg Terrace - Cummings House
1355 N. Sandburg Terrace - Dickinson House
1255 N. Sandburg Terrace - Eliot House
70 W. Burton Street - Faulkner House
1560 N. Sandburg Terrace - James House
1555 N. Sandburg Terrace - Kilmer House
88 W. Schiller Street - Lowell House
Sandburg Village Now
Homeowners Association (HOA)
The Carl Sandburg Village Homeowners Association--commonly referred to as HOA or the Homeowners Association--is responsible for the maintenance of the Village's common areas. HOA's responsibilities include such items as landscaping, snow removal, security, and Village signage. HOA maintains and operates the Village swimming pools, tennis courts, and two hospitality rooms. HOA also manages the leased commercial space located on the terrace level in the 1300 and 1400 blocks.
Members of HOA are the owners of the 2,610 units in the following seven condominium associations:
Association 1 Cummings and Dickinson (567 units)
Association 2 Alcott and Bryant (567 units)
Association 3 Town Houses (60 units)
Eliot (324 units)
Faulkner (224 units)
Lowell (252 units)
Association 7 James and Kilmer (616 units)
HOA's expenses are paid for by assessments of each association, which are passed on to the individual unit owners.
Each association appoints representatives to serve on the HOA Board of Directors, which sets policy and oversees the finances and operation of the Association. The Board meetings, which are open to all unit owners, are usually held on a monthly basis. The HOA Board contracts with a professional management firm to provide management services.
The HOA Management Office is located in Dickinson House, 1355 North Sandburg Terrace, Suite 103, and the phone number is (312) 440-3615.